Eric Dahl is a writer from Seattle who has produced several albums that have received praise from fans and critics in the Pacific Northwest and in Texas. What follows is a bio in his own words that gives an account of how he came to write songs and what he writes about.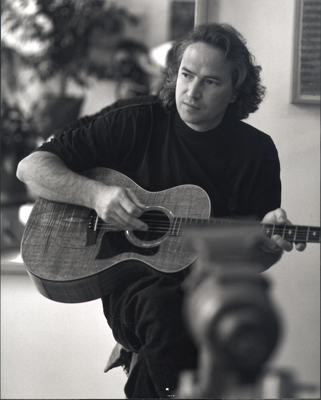 Eric Dahl, Seattle. Photo by Michael Fajans
I was born in Colville, Washington, in the northeast corner of the state. Within a year we moved to Kent, which at that time was a truck farming town in the Green River Valley south of Seattle with a large cannery and a rail line. When our family left Kent, it had the effect of isolating five years of childhood memory in one unchanging mental location locked in time. Images from that landscape play a role in some of my songs, notably the Libby's Cannery and the freight trains. These images were the foundation for writing about people and their work lives. Because I had to work to pay for school and anything else I wanted, I had lots of interesting jobs when I was young and wrote several songs about those encounters. I worked as a carpenter in local construction, as a fisherman on a purse seiner, as a boat builder, as a cabinetmaker, as a beekeeper with one of my uncles, and in some interesting downtown Seattle businesses as an all-night maintenance worker.
Music was definitely a part of our household. My father loved the music of the 40s and seemed to know every song. He played the saxophone and we all had piano lessons and learned to play other instruments. I never really learned to play the piano but I did learn how to construct chords. This turned out to be very important when I got my first guitar. It was a terrible instrument with a warped and twisted neck, and I had no idea why it was so hard to play. But I did start writing songs. I was already writing poetry and stories, so it seemed like second nature. It was also the mid-1960s so the radio was loaded with good material. I never learned any covers, but knew from the examples that storytelling was allowed. I grasped that a song could be any kind of narrative. I started making tapes of finished songs with absolutely no intention of playing them for anyone.
I spent my first college year at Whitman in the town of Walla Walla. There were two important influences on my writing there. James Holmstrand was a beat poet, the real thing in terms of knowing contemporary poetry. He also gave honest feedback on what I was writing and connected me to allies in his writer community.

Libby's Cannery, Kent, Washington (by permission: coastalmodelworks.com)
The other person was Thomas Howells, a literary scholar from the University of Chicago who taught at Whitman for decades. I read the classics in translation with him for the first semester, then works of the European Renaissance for the next. This was literally thousands of pages of reading with someone who knew the territory. It was fantastic and, in some ways, was never that good again. At the end of the year, I was awarded Whitman's college literary prize (including cash) for my poetry and critical studies. Because I knew I couldn't afford to come back to Whitman, I tried to return the prize, but Professor Howells said that wasn't how it worked. The prize was in recognition of what I had already accomplished.
I returned to Seattle and studied at the University of Washington (UW), publishing poetry in Poetry Northwest and other journals. I continued to write new songs without performing them anywhere. At Whitman I was rewarded for poetry and critical studies. Nobody knew that I wrote songs. The same was true at the University of Washington where I received a major international scholarship, but not for songs. That was something I did separately.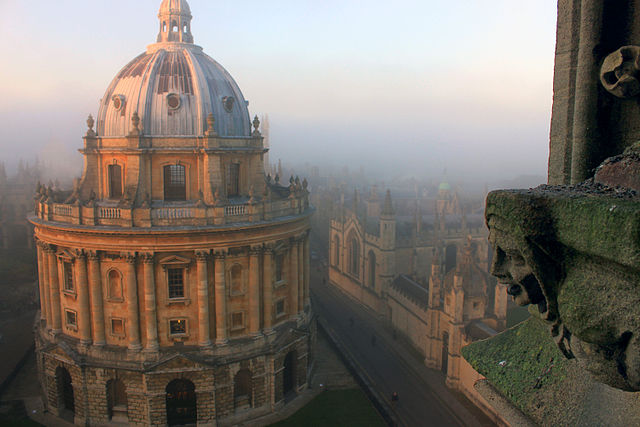 The Radcliffe Camera where Dahl studied at Oxford
I also found more mentors at UW, particularly the historian, Giovanni Costigan, poet/scholar Joan Webber and drama critic Otto Reinhart. A deeper interest in theater affected my song writing: I became much more interested in songs with richer speaking parts, particularly with dialogue. I had also formulated the concept of "productive procrastination." If I was unable to do my main critical writing or write poems, I would not waste my time avoiding the work. I would instead write a song. That was partly how I created about 20 more songs by the time I left the University of Washington.
Next I studied at Oxford University and didn't write any songs for three years. I was intensely focused on learning all I could at Oxford and in London. I studied English Literature within the traditional tutorial system but also did research projects at the British Library and the BBC Library. I wrote poetry and participated in readings with other poets. In my second year, I was awarded the Isis Poetry Prize, an unexpected honor. All students at Oxford could submit their poems, with only one winner. Americans rarely were chosen.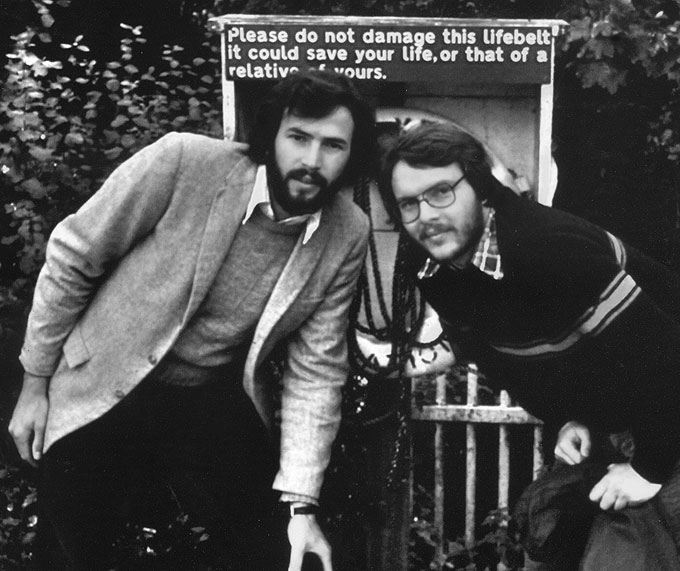 Eric Dahl and Chris Dahl along the Thames
When I completed my degree there, I returned to Seattle and stayed out of libraries for a while. I worked as a boat builder and began singing and writing songs again. I began assembling the songs on neatly labelled cassette tapes, now heard by a few close friends. I didn't know the term at the time, but the cassettes were unreleased song collections with titles like Red Gold, Northern Wind, or Stardust Tavern, depending on what part of my history or memories I was exploring.
During that time, two of my friends insisted that I should spend the time necessary to produce and promote my music. I had known Bayard Johnson since we were six. He became a Hollywood screenwriter and invited me to come there and work with him. When he learned about my music, he immediately became an advocate and connected me to his friends in that world. On a dare, he booked me into the Santa Monica Improv, which at that time had a music venue with an "unknown artist" night. I sang in front of a crowd there as a very unknown artist—it was my first time singing live on stage. I was relaxed and would stop and explain that I couldn't remember parts of songs. The audience was curious and tolerant. I learned later that one of the performers in the audience "copped my act" and would pretend that he could not remember his songs. Los Angeles is a strange place.
The other person was Emile Wilson, who studied with me at Oxford and was also originally from Seattle. He arranged time for me in a good Seattle studio and insisted that I record some tracks so that I would understand what professional recording technology can do with a song. Listening to the mix tapes with him was an important and inspiring lesson for me. I feel like I still owe Emile for that.
After completing my doctorate, I found my way to the studio of video artist John Hawk and produced my first CD, Knack for Negligence. Instead of recording the songs I had already written (from the cassette archive), I went into a trance of new songwriting. I wrote one song a day for ten days. On the tenth day, I was exhausted and had no idea what I would write. Then, sitting with my guitar, I heard a terrible news announcement about Kurt Cobain's death. I wrote "Untitled for Kurt Cobain" that morning and only sang it once after that, when I recorded it with John Hawk a few days later.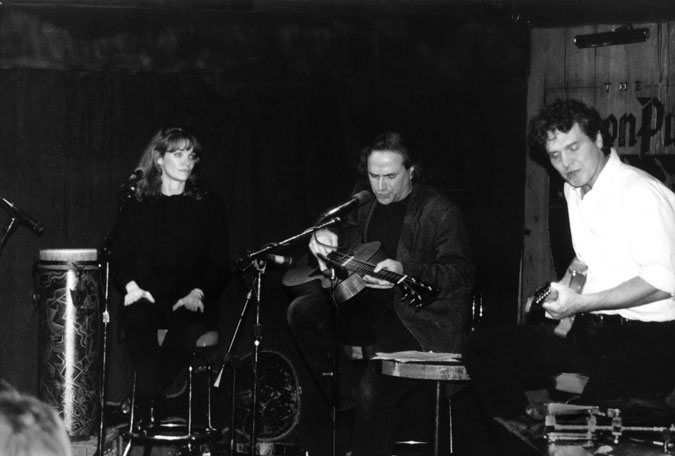 Terry Martin, Eric Dahl and John Hawk, Saxon Pub, Austin TX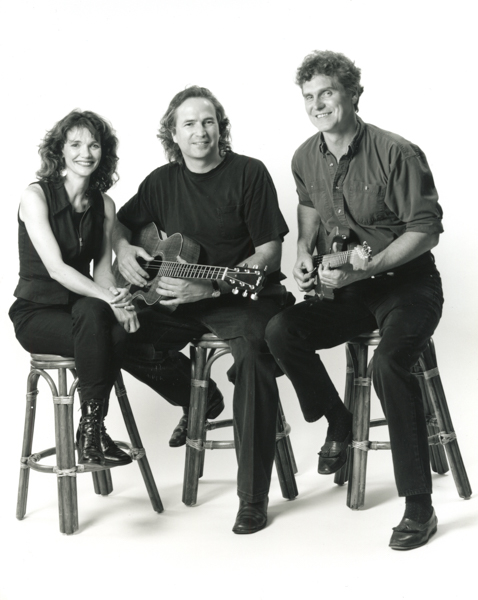 Terry Martin, Eric Dahl and John Hawk
The Seattle music critics liked Knack for Negligence and wrote good things. Most said they had no idea who I was. Even though the songs were collected somewhat randomly, the CD was praised for having imagery and stories from both sides of the state: the rural wheat and orchard lands to the east and the blurry haze of the urban Puget Sound region. I was now performing with John Hawk and Louisiana singer Terry Martin. My brother, Chris, did our bookings and CD sales and managed to get us plenty of shows in local clubs.
When I had a chance to work in Austin, it made sense for me to move there because it had such a vibrant live music scene, a growing number of singer- songwriter/Americana venues, and a large pool of musicians for studio work. What I didn't count on was the impact on my writing. I lived there 3 years and wrote about 30 new songs, most of them directly about people and situations in Texas. It was demanding to learn new songs for each performance in the local clubs and record the tracks in a studio later for future use. If you pay attention, Texas can hit you with more song material than you can physically manage other than to just write and sing the songs. The next CD, Whatever the Jungle, combined songs recorded with George Coyne at his Austin studio with other songs recorded by John Hawk at the California Institute of the Arts in Valencia.
After three years of intense exploration, I left Austin for a chance to work with friends building academic programs at the University of Georgia (UGA). This was meaningful work, contributing to a progressive future for that state. For the first ten years at UGA, I worked on three projects—building a medical education program, a new school of engineering, and a new college of public health. For the next ten years after that, I served as an associate dean and professor in the College of Public Health doing everything possible to help the program grow and thrive with positive social and health system outcomes. This work was something I knew was worthwhile, but it didn't leave much time for working on poetry and songs.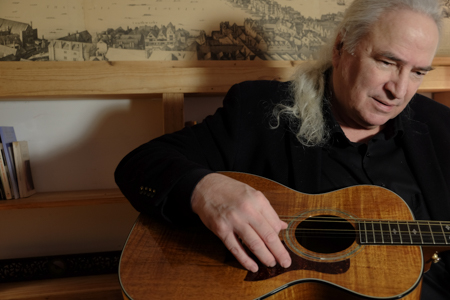 Eric Dahl, December 2021
When I left Austin for Athens, I still had about twenty Texas songs that were recorded but never mixed. The next Texas CD, Live by Your Word, was mixed several years later, beautifully, in Athens by John Keane. It was released in 2011. A final Texas album, Three Pawn Shops, was mixed during Covid Year 1. It is composed of diverse sessions recorded over time, in four different studios, and was only completed in 2021, with the help of Mark Maxwell at Maxwell Sound in Athens. I had time for this because I left UGA for the "no job" status that lets me focus again on songwriting and poetry.
Three Pawn Shops was released on January 21, 2022. For the first time, all four of my albums (one from Seattle and three from Texas) are available for listening on my website (ericdahlmusic.com), also on Bandcamp (https:\\ericdahlmusic.bandcamp.com), and on multiple streaming platforms. You can listen to all the tracks for free, or if you would like to help support the cost of recording and producing more of this material, go to Bandcamp and purchase your own digital or CD copies of the albums using the "choose your price" option.
With these four collections complete, I can circle back to the unreleased cassette collections of even earlier Seattle songs. In Covid Year 2, I started working on new versions of ten songs from the Seattle archive that will be released in 2022. If you join our mailing list (see Contact) we will let you know about the new CD as it develops.